SAJEEV NAIR - MD & Chairman
Sajeev Nair is a Peak Performance Coach and Business Strategist who is committed to create positive and progressive transformations in people and organizations. He is a celebrated Peak Performance Strategist. He has helped more than 300 companies in India and Middle East to re-engineer their businesses. Sajeev Nair is the Founder of 'Thought Process Re-engineering' (TPR), the most scientific human transformational program created by converging the principles of neuro-science, quantum physics and spirituality. In the last 10 years thousands of entrepreneurs and senior executives and people from all walks of life have gained massive upside on their performances by following the principles of TPR. More than 10 lakh people have undergone his Peak Performance workshops and Seminars. Thousands of entrepreneurs and professionals dedicate their success in life to the Personal Coaching they had received from Sajeev Nair. A Columnist in Business Publications and has received many awards for his entrepreneurial contributions. He is author of several books like 'Tathastu' and 'Vijayamanthrangal'. He has been instrumental in creating many innovative training programmes like, TPR (Thought Process Reengineering)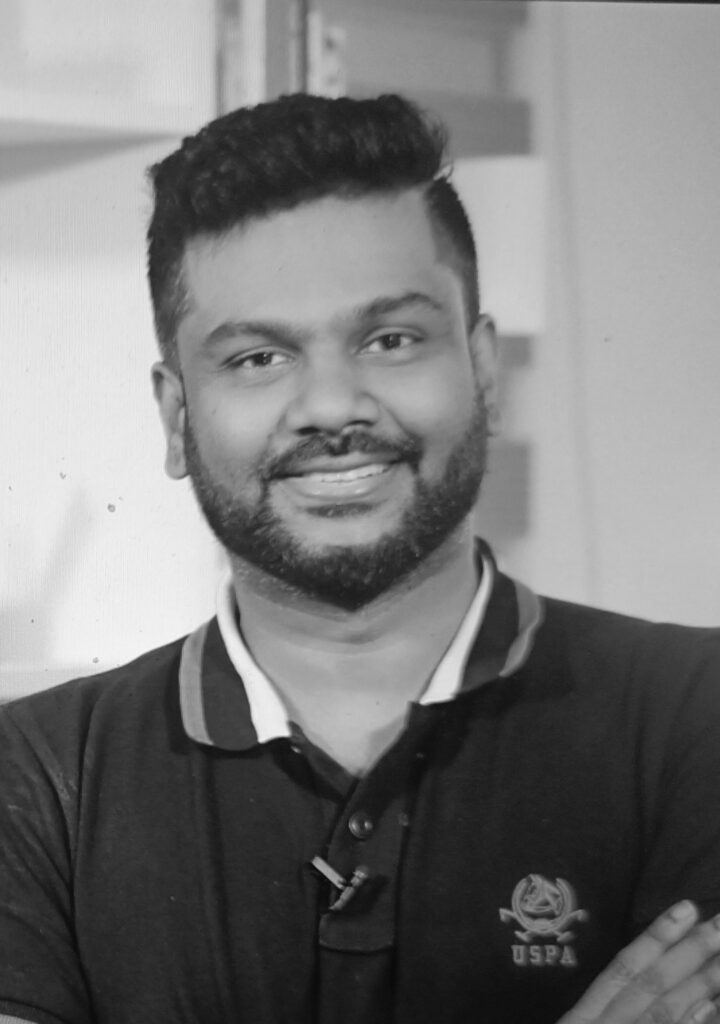 An experienced hand in developing practical business solutions for past 14 years. Experienced at IBM, LearnNext, ADB and Kerala Government projects in management strategic consulting. Has got hands on experience in strategizing and implementing result oriented systems for small businesses. He is an expert business trainer who has trained more than 2 Lakh people. He has consulted over 350 entrepreneurs and organizations inside kerala and middle east, probably the most by any SME consultant and was instrumental in leading a small business revolution in the state. As a change management expert, designing innovative business models and developing newer training techniques are his core competencies. He is also an internationally acclaimed quiz master and won several national and international quiz competitions. He also has conducted more than 500 quiz competitions in spread over 8 countries. He is also a regular columnist in the major business publications in Kerala.
B-TECH MBA in systems and HR
He is having more than 10 years of experience in Small and Medium scale industries in Kerala. He got an exposure to more than 200 organizations. He is excellent in building relationships and keen in supporting the entrepreneurs leaping outside the framework of defined project. He has thrived to build the reputation of "THE RETAIL EXPERT" that his clients keeps close contact with him for his technical advice and support. He is also a person with vast knowledge on various industries ranging from retail, manufacturing, FMCG, etc.
RENI JAMES - Senior Manager – Management Consulting
MBA in Marketing & Systems, PGDM - Business Sustainability.
His Hardworking and involvement in the project helped him to become an expert. He has experience in strategic consulting, Process reengineering and start-up consulting, He has rich experience in spearheading business transformation, system analysis and design, business modeling and business plan preparation. He was also associated with major corporate restructuring assignments of milestone projects in India and overseas. He has consulted more than 60 companies within 9 years of his experience.
Deepak Kumar C K - Senior Manager – Client Relations
Mr Deepak is a Sales professional with over 10 years' experience. His expertise in customer relationship and providing strategies for various small and medium businesses makes him a maverick sales head. As a practical solution provider for micro and small businessmen and his acumen to connect with people is enviable. He has also been instrumental in maintaining a large customer base for Bramma, making them inclusive and ensuring their involvement in all Bramma activities.
DARLY K MANUEL - Manager - Management Consulting
MBA – Marketing (Amity University, Noida)
Mr. Darly k. Manuel is a sector agnostic management consultant specialising in process reengineering, business strategy, change management and operations. His consulting experience spans over 9 years across industries including manufacturing, contracting, information technology, trading, services and start-ups. Mr. Darly's engagement primarily involves advising founders and CXO's with strategizing and re-engineering their business to achieve peak efficiency and help top management to focus on business expansion by achieving a smooth self-sustaining operational business model.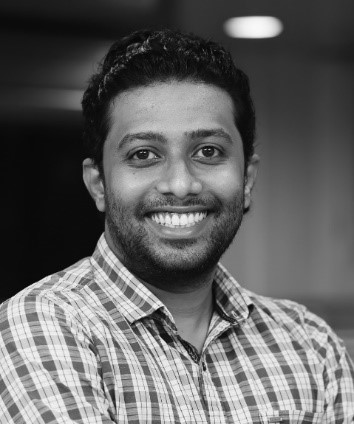 Abhinav Noel Norbert - Manager - Management Consulting
MBA – International Business
Abhinav serves as a management consultant specialized in Start-Up R&D. Abhinav finds nothing more rewarding than helping his clients to make their entrepreneurial dreams come true. He adds a dash of flair to the sometimes dry, numbers-based business plan to match the initiative of the entrepreneurs themselves. He manages a diverse set of projects and is responsible for project execution and timely submission of deliverables. He has also worked on a wide range of projects in diverse fields that includes FMCG, Education, Real estate, Tech companies, Co-working spaces, Tourism, Restaurants, Interior designing, Electronics and much more.
SHYAM T S - Accounts Head
Finance and accounting expert with more than 6 years of experience in business development and growth with the development of short and long-term financial plans budgets and forecasts for companies. He is highly experienced in the daily operations of businesses along with managing staff to increase productivity and compliance. He is also instrumental in working with superiors and departments in order to manage financial and accounting procedures, asset management, and payroll management.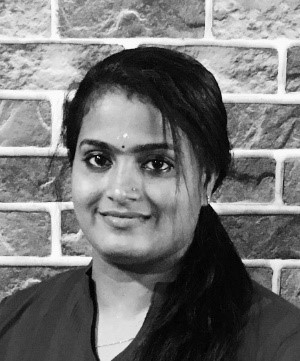 Soumya K K - Manager - Client Relations
Soumya considers her job is not just a job… but it's her passion & lifestyle. She is ready to work 24/7. As sales is a challenging and constantly changing job, she accepts the way it is. She is excellent at building relations with customers and supporting them until they reach the utmost satisfaction. She is ready to identify the opportunities to grow customers by giving proper solutions to make them happy. She possesses good communication skills and is a good listener.
Subin Sathyan - Manager - Management Consulting
A passionate and dedicated consultant who is following his vision to "be successful through making others successful". Self-directed and driven business consultant who has expertise in organization restructuring, costing and budgeting, inventory system streamlining, branding & marketing strategy development, financial analysis, six sigma implementation, media plan creation, and strategy development. Expertise includes developing and managing multimillion budgets, launches and brand revamp. Subin has vast proficiency in industries such as FMCG, construction, retail, manufacturing, service, home appliances, export etc.
Faizel Ahmed - Manager - Consulting and Training
MA, MBA (Operations and Marketing), UGC NET (Management)
Faizel has more than 6 years of experience in the supply chain, operations, and strategic management in big firms in India and abroad. His research and consulting activities have benefited from his expertise in a wide range of subjects. Additionally, based on his academic background, diverse professional experience, and love of teaching, he conducts training and teaching sessions for various populations. Strategic and operational advising for businesses with a focus on growth, profitability, and business model transformation mandates is one of his strong competencies.
S Mahesh Kumar - Manager - Management Consulting
With over 12 years of experience spanning across industries in India and GCC, Mahesh brings on board his expertise in managing people from across the world. He has immense knowledge of multicultural environments across sectors, including FMCG, retail, production, distribution and export marketing, and has a unique panache loved by his clients. Mahesh specializes in process re-engineering, business analysis & operations.
Mary Christy - Manager - Management Consulting
MBA – Finance and Marketing
Management consultant professional with 4 years of experience in business strategy, operations excellence, and project management. She is very much passionate about market research and providing consulting services. Expertise in market research, operation model design and set up, business process reengineering and providing strategic insights to the clients. She is also experienced in value creation of businesses, business valuation in coordination with investment bankers and valuators, and making the business VC ready.
Nibin Thomas - Assistant Manager - Management Consulting
MBA in HR & Turnaround Management
With more than 6 years of experience covering business process reengineering, restructuring and change management, he has an extensive professional experience across a wide spectrum of sectors including Manufacturing, Food Processing, Distribution, Retail, Digital Integration, NBFC-Finance, Education and Public sectors. He has consulted more than 20 companies with national and global presence. As a man of system thinking his dogged determination brings in transformation in organizations that otherwise seem difficult.
SHYAM C P - Assistant Manager - Management Consulting
Management Consultant specializing in R&D across industries working with SME's and Start-ups with added experience in Project management Operations, client servicing, partner engagement, and account management. A traveller and a learner, He is focused on building impactful relationships with colleagues and clients, through effective teamwork and independent thinking with a resolute to add value.
Shehzan P P - Assistant Manager - Management Consulting
PGDM - Finance and Marketing
With over 4 years of experience in India and UAE in the banking and financial services sectors, Shehzan has vast knowledge of the financial and operational aspects of businesses. An expert in financial and investment analysis, securities& portfolio management, etc. Shehzan also brings in his experience of handling big clients to the team. With his experience in environments across cultures, Shehzan specializes in business process re-engineering and financial modeling.
Lakshmi Sunil - Manager – Management Consulting
B Tech, MBA - Marketing & Operations
Ms. Lakshmi comes with a combined experience of over 7 years in HR, Corporate Sales, Client Relations & Home Shopping is just a snapshot of her varied industry exposure. Lakshmi's wide experience in various industries and expertise in Client Relations & HR has been instrumental in setting strategies in the respective domain for SME clients. Lakshmi's staunch research skills coupled with detailing have enabled her to provide valuable insights into business plan executions.
Aswathy N Nair - Assistant Manager – Client Empowerment
PGDM - Finance and Marketing
Ms. Aswathy is an enthusiastic go-getter with an insatiable need for knowledge. Aswathy has an immense passion for training and yearns to help her clients and colleagues. With over 12 years of experience in training, sales & marketing management, and client relations, she aims to excel in everything she is tasked with. Her keenness to adhere to deadlines and targets makes her a valuable and efficient team member at Bramma.
Vishnu K Ajith - Manager - Client Relations
MBA - Marketing & Finance
Versatile experience of over 5 years in b2b & b2c sales, Vishnu brings onboard his expertise in handling clients with adroitness. His core competencies in sales, event management, and customer care make him a domain expert in devising strategies for various small businesses. As a practical solution provider for MSME businessmen his caliber to connect with people is immense. He has also been instrumental in maintaining the large customer base of Bramma making them live and ensuring their participation in all major activities.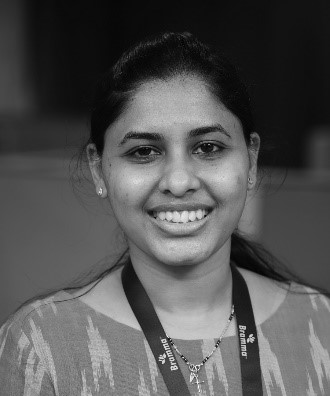 Steny Sunny – Assistant Manager - HR
MBA – Human Resources and Finance
Having more than 3 years of experience in hr management. Steny has been creating job offers and reviewing salary structures. Overseeing employee relation, benefits and compensation, staffing, management and development. Her specialties include talent acquisition, key performance management, rewards strategizing and employee communications. Bramma's work culture management and developmental HR activities are safe in Steny's hands.
Husni Mubarak – Assistant Manager - Graphic Designing
Bachelor of computer application (BCA)
Mr. Husni is a creative professional with over 9 years of experience in Creative, Branding & Printing. He is a zealous and diligent artist and a TAT (Turn Around Time) maestro. Mr. Husni has shared his expertise with some of the best branding and advertising agencies and has worked for Unilever, TTCO, Milma, Bajaj, Maruti Suzuki to name a few, and now brings his bag of tricks to Bramma. Mr. Husni is a true professional with a touch of magic up his sleeves.
Liji Raju - Executive - Content Management
Ms. Liji is a passionate writer who believes her work can bring a positive transformation in people. Liji joined Bramma as our Content Creator and is currently the Chief Editor of Bramma Better You Magazine. She is an avid reader and juggles her time between reading and writing. She has a demonstrated history of working in various fields. She is also a skilled, and passionate researcher with diverse knowledge in writing and managing content of varied styles and formats. She brings her 5 plus years of experience onboard to Bramma.
Kavya Rajagopal - Executive - Research and Development
Kavya is vibrant young sales expert, specialising in tele calling and market research. She is also a professional classical dancer with over 100 accolades to her name. Kavya is now supporting the team as a research and development executive in Bramma. She is an inevitable part of HR consulting and recruitment wing of Bramma.
Roshima Celein - Executive - Client Relations
Ms. Roshima is a self-motivated, and persuasive professional with a proven background in Sales. She loves maintaining healthy relationships with clients for generating business. Driven by challenges, Roshima is an effective salesperson and passionately sails through the rough seas. She strongly believes that human interactions and healthy relationships can open doors to untapped opportunities. Ms. Roshima brings with her 6 plus years of experience in sales in the automotive industry.